Easy Class Registration
Promote paid or free programs with GoSignMeUp's institution branded storefront catalog.
Our intuitive interface allows for easy course searching, and quick check-out process makes it easy to sign-up for classes.
Course Display
Display your courses as a simple list, which can be sorted by name, dates, time and location.
Or, add graphic elements in a tile view for more visual pizzazz.
Create multiple sign-up pages to offer courses to a specific audience.
Create as many unique sign-up pages as you wish!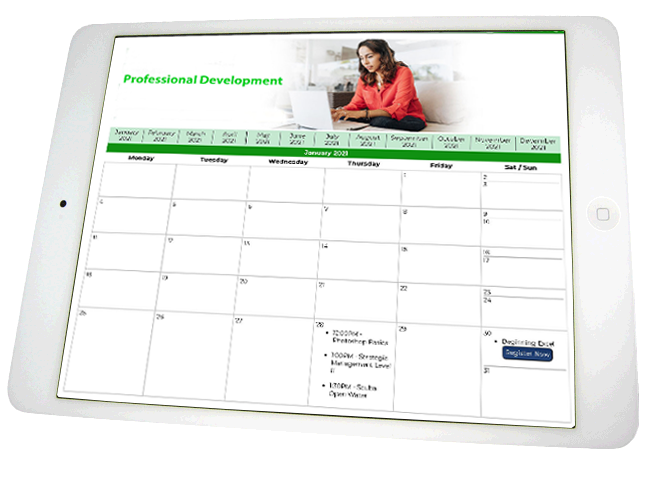 Multiple Search Options
Visitors can search based on keyword, category, date range, course number, start date, course name and other custom variables.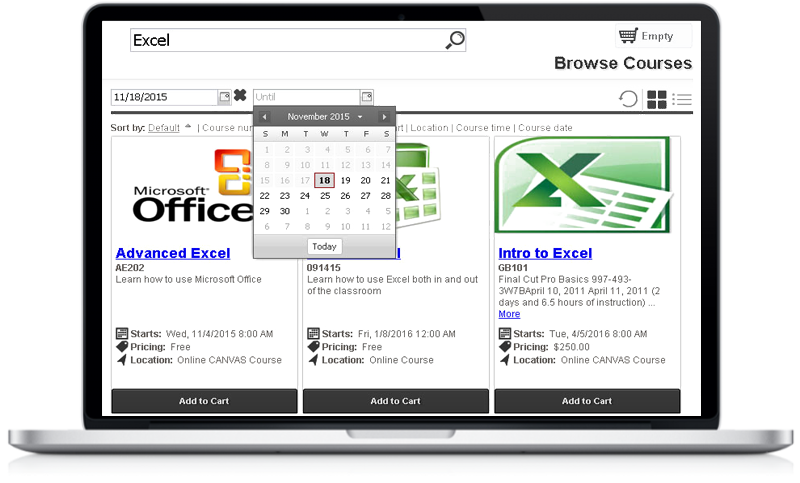 Calendar View
Classes can be viewed by month, week, day and filtered by custom categories.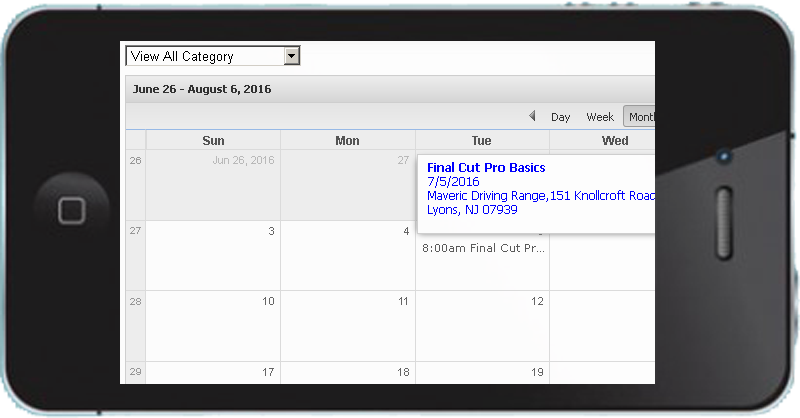 Registering for a Class
The process takes only 3 mouse clicks which includes payment.

Automated Administrative Functions
Our intuitive interface allows for easy course searching, and quick check-out process makes it easy to sign-up for classes.
Email Reminders and Confirmations
Class confirmation and reminders are sent when a student enrolls.
Theses automated email messages can include attachments such as PDF files and a VCS file that will allow the student to place the dates and times of the class in their calendar.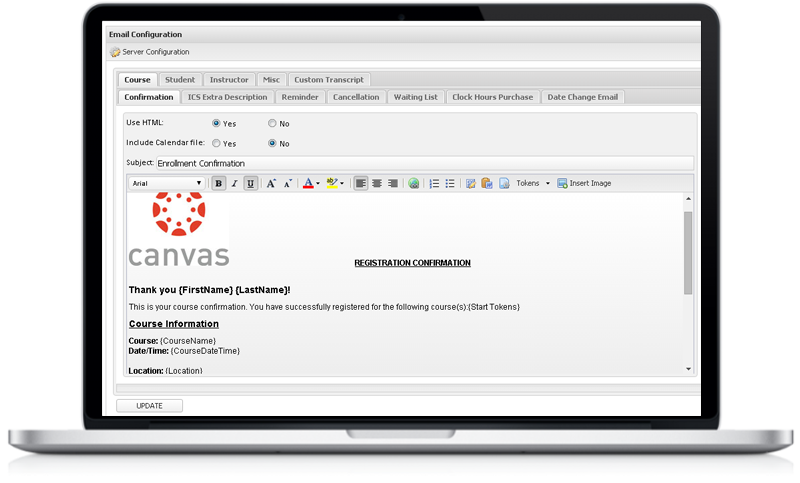 Class Lists, Sign-In Sheets, Name Tags
Create sign-in sheets, customizable with your organization logo and your choice of fields to identify each student. Automatically create and print name tags, and table tents.

Certificate of Completion
GosignMeUp provides standard certificates or you can create a custom certificate. These certificates and be printed or emailed automatically to the students when a class is completed.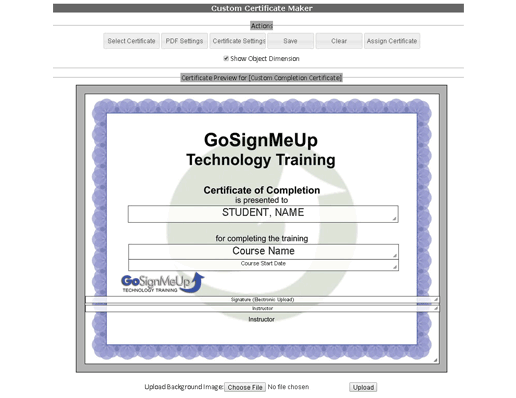 Student Transcript Report
Students can log in to their accounts and view or print a transcript of all classes completed. Transcripts can include the title, instructor, dates, and grade received for each course completed.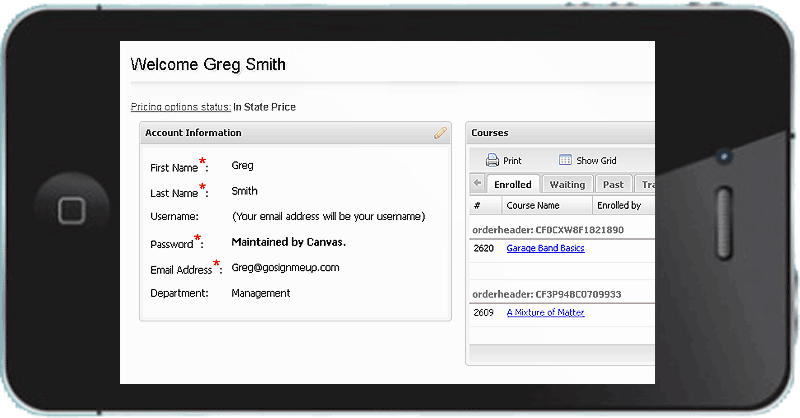 Extensive Analytics and Reporting
Whether you need to develop effective learning cycles, or reporting to federal, state, or local agencies, GoSignMeUp provides powerful and flexible reporting and analytics.
Transcript Reports
This report can pull a complete transcript of every class that student has taken in the system.
This can be done by a date range and include instructor, course name, dates and grade.
Students can also have access to transcript of their completed courses.

Class Roster Reports
This report can be filtered by date, course, course category, as well as various student demographics. Like many of our reports, it can be exported as a CSV Flat file that works with many other 3rd party programs.

Enrollment Statistics
Get a real-time accounting of every class you currently have running on the system. See course status, enrollment, wait list, income, and more. There are also reports that can be run on a routine and emailed on a schedule showing class enrollment size.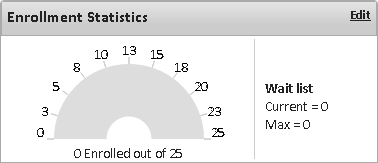 Ad-Hoc
Create and export custom reports from GoSignMeUp in real-time.
These customized reports can be exported as a CSV Flat File.
Financial and Payment
The searchable orders report area gives you complete reporting on orders, payments, payment status and other related order details.

Email Data Mining
Promote future classes based on student demographics and/or class history

Export Reports Via CSV Flat File
Many of our reports can be exported as a CSF Flat File allowing the data to be imported into 3rd party programs such as Excel, Student Information Systems, Learning Management Systems and much more.

GoSignMeUp Integration to Canvas
GoSignMeUp is a Canvas Certified Partner, expanding the capabilities of your current Canvas Learning Managment System.

View Video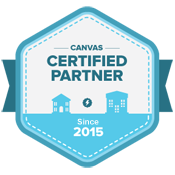 Course registration for Canvas Courses
When a student signs up for a Canvas Course in GoSignMeUp, they are automatically enrolled for that content in their Canvas Account.

Create Canvas Account from GoSignMeUp
If a student signs up for a course hosted in Canvas, and does not have a Canvas Account, GoSignMeUp will create it for them.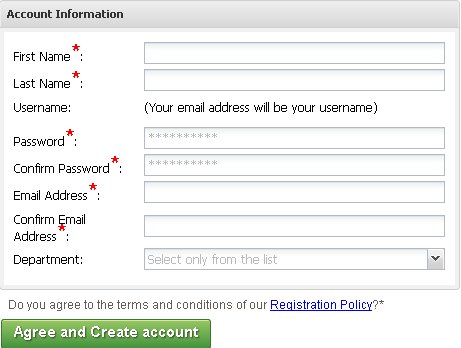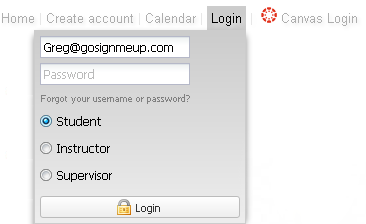 Single Sign-On
Students use their same sign-on credentials with GoSignMeUp and Canvas.
e-Commerce
Accept credit card payments, as well as other user defined payments such as Purchase Orders, Deferred, or Checks.
Classes can be offered without charge as well.

Works with Canvas and In-Seat Classes
Many teaching environments include both in-seat and Canvas classes. GoSignMeUp has the ability to allow you to provide both types of classes in a single system.

To learn more about how you can integrate Canvas Learning in to GoSignMeUp
give us a call at 1-888-286-4826, or fill out our contact form.
Expand your potential by adding Canvas Learning to your GoSignMeUp installation!